Today was a sad day. Our beloved Hall-of-Fame Basketball coach passed away. He had been sick for several years with cardiac problems, but the past three weeks were especially bad for him. Don Haskins was and always will be the biggest celebrity El Paso has ever known. We loved him and he loved El Paso! We were always so proud to have such a great man as part of our community.
Everyone called him "The Bear." When he was scowling, he looked like a bear, and he would prowl the sidelines during each and every basketball game, seemingly unapproachable. Despite how hard he was on his players, they all learned to love him....eventually.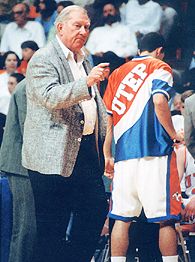 He was INTOLERANT of what he thought were unfair calls by the refs, and trust me, there were many. He would get so angry he would occasionally go after a ref, shaking his rolled up program in the refs face, ending up with a technical. Once he had one technical, he'd almost always get two, then he'd get thrown out of the game! This served one purpose only - to get the crowd and players fired up enough that they'd play their hearts out and win! I don't remember a single game when Coach Haskins was thrown out that we didn't win. Great strategy.
The tributes that have come rolling in are quite impressive, from govenors, to a Who's Who of the sports world. They all talk about Coach Haskin's ground breaking 1966 NCAA Championship win over the University of Kentucky. What made it so historic was Coach started five black players. That was unheard of! But his bravery "changed the face of basketball" for ever. And he changed El Paso forever.
He will be greatly missed.
(As a side note, Coach Haskins laid in repose all day Tuesday, September 9th, at the Haskins Center. I noticed on TV the funeral spray on his casket was gorgeous, and made of red, yellow and green chile peppers and bell peppers. How appropriate is
that
?!)